Hair ends do not have easy life: hot temperatures and dryness causing sun in the summer versus devastating air from the radiators. It is often accompanied by other "unpleasant experiences" such as: hot air produced by the blow dryer, use of straightener, cigarette smoke, freeze…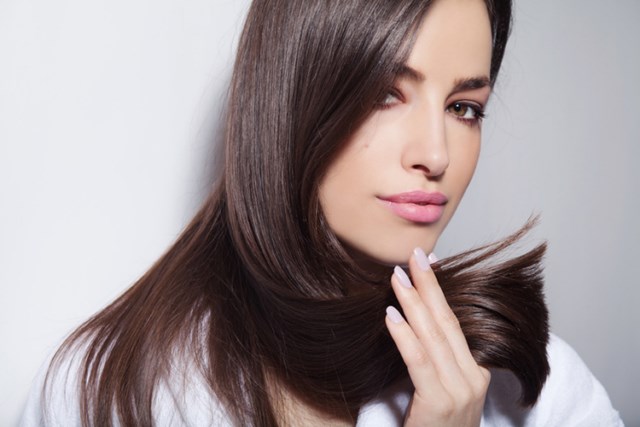 The fastest to submit to damages are the most sensitive parts of hair, e.g. hair ends. To protect them is required more intense care, best applied on multiple occasions during the day.
One of best methods is to combine oils, silicones and moisturising humectants in one. To do that you can make hair serum on your own and use it everyday, even few times a day.
Pour serum into the bottle with atomiser or special pump to make application easier.
Serum is being created on oil base with protein such as: silk, collagen, keratin. To complement it add moisturising substances (so called, humectants), like: aloe extract, honey, hyaluronic acid.
If you want to use serum only on the hair ends, it is best to be more concentrated and relatively thick, so its ingredients must be in 1:1:1 proportions. Therefore, mix one table spoon of each ingredient, for instance: argan oil, liquid silk, aloe.
If you want to use serum as a hair mist, you have to dilute the ingredients (e.g. with herbal brew: nettle, horsetail or chamomile). Just 100 – 200 ml/3.4 – 6.8 oz of the brew is enough. Such hair mist pour into the bottle with atomiser and spray hair with it on the half of the length with particular attention to hair ends.
The important matter worth paying attention to is the choice of right natural oil. If your hair are exceptionally damaged and dry, then almost for sure they have high porosity. In this case use sunflower seed oil, castor oil, wheat germ oil or linseed oil.
If your hair are relatively healthy, but the hair ends start to becoming dry or frizz on occasion as a result of increased humidity, it means that they have medium porosity. In this case, complement serum with oils such as: argan oil, almond oil, macadamia oil, peanut oil, sesame oil, avocado oil.
Thick and healthy low porosity hair also require care and protection. When creating serum, add to it following oils: coconut, palm, babassu.
All ingredients essential for preparation of serum can be bought online or in shops with ecological products, or sometimes even in pharmacies.
Attention: after hair wash you can first protect and nourish hair ends by applying few drops of the oil, and only then proceed with strengthening with oil serum.
Good Luck!